I'll share with you a cute gift idea. There are plenty of showers coming up this spring which this would be great for, but I actually gave this gift to my MIL for her birthday.
It's my twist on those bundled oven mitt gifts you see during the holidays with baking goods inside and a cookie cutter. All I did was take an Oven Mitt and stuff it full of some awesome kitchen accessories, top it with some tissue paper, and tie it with twine (which matched the feel of the ticking stripe) and a gift tag. I really like being able to find things to package gifts in that can serve a purpose — that way I'm not spending money on things that inevitably just end up in the trash moments after a gift is opened.
Here are some of my favorite kitchen items (in red because 1) I love red and 2)Valentines day IS coming up):
These things are so dang useful. I LOVE them. I don't actually even use my oven mitts anymore because of these helpful little guys, so I may have just ruined my own reasoning for packing these gifts in an oven mitt… hmmm!?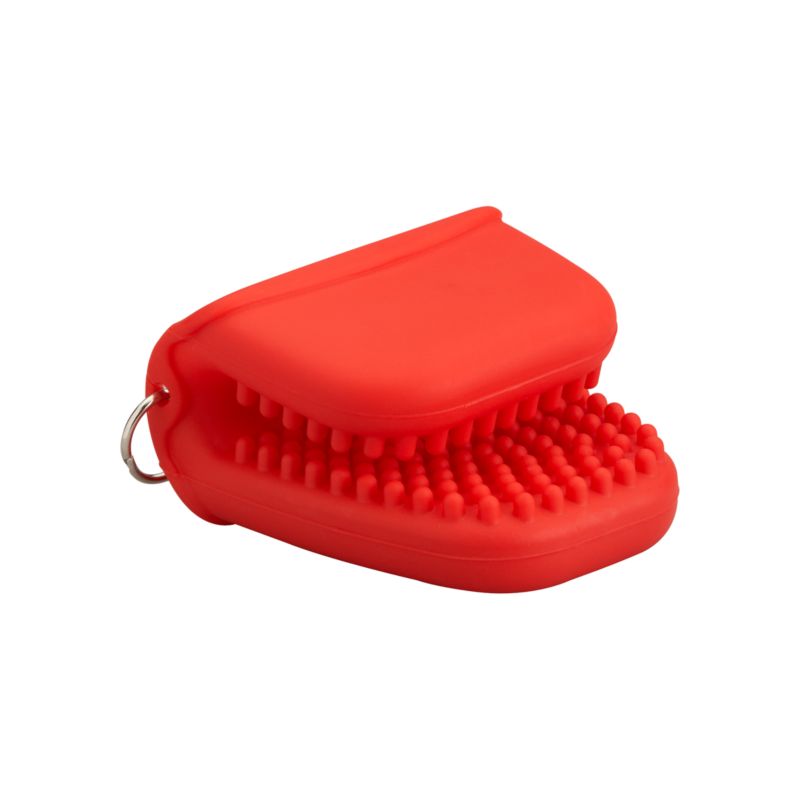 And these (cousins of the mini oven mitt) to grab pans from the oven or transport hot stuff to the table (on the rare occasion that ACTUALLY occurs at our house)
These guys are more of a help to J than me, since he does the dishwashing — but they are useful for getting grime off of pots and pans. The other alternative is to have an awesome grandma like me who makes you handmade dishcloths.

Cute salt and pepper shaker (you can stand them up and it looks like 1 shaker)
How useful are these? I love being able to rest my utensils right on the pot!
How about these cute little dudes? Normally I'd go with something along the lines of the recipient's kitchen colors… but since we're on a red/valentines kick today:
Attach the oven mitt to a favorite cookbook using ribbon or twine if you want to add more to the package. I personally like Rachel Ray — easy and budget friendly!
What are some of YOUR favorite shower gifts to give?